Educational tours
A rich, detailed, evocative and also entertaining offer. Museums and more... from the great masterpieces of universal history to the lesser known artistic and cultural heritage, diffused throughout the territory or preserved in museums, up to current exhibitions and recreational-scientific workshops.
The programme of activities and events that will form part of the educational offer is proposed by Roma Capitale, Assessorato alla Crescita Culturale - Sovrintendenza Capitolina ai Beni Culturali, by the Assessorato alla Persona, Scuola e Comunità Solidale and by the Istituzione Sistema delle Biblioteche Centri Culturali, with the museum services of Zètema Progetto Cultura.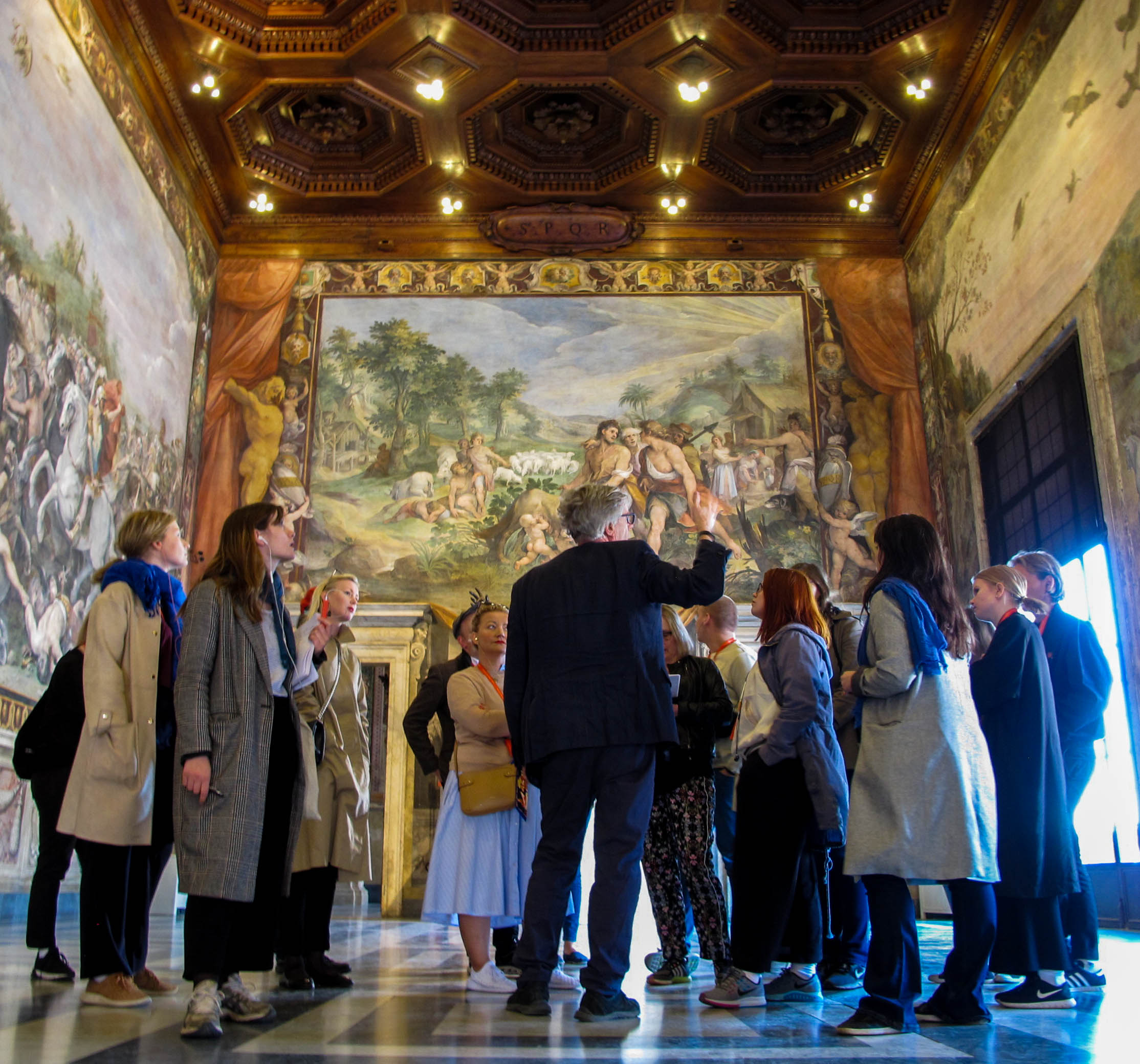 The educational offer of the Sovrintendenza Capitolina is based on the following elements: restoring tradition, developing activities with an ever-increasing synergy between the institution and the world of education, promoting the interaction between the museums and the territory. Since the end of the 1970s, this educational tradition has been innovated and developed in relation to the new needs of the scholastic public, based on the fact that the offer is free of charge, and on attention to scientific content and language so as to bring children and young people closer to knowledge of the heritage in a pleasant but knowledgeable way, and to encourage cultural and individual growth: knowledge in order to develop and adopt skills.
The topics and targets of the educational projects are to promote and develop a better knowledge of the art and millennial history of Rome, also through the web site information about the different features of the heritage; to visit museums and art places and become aware of the complex beauty of the city, from the centre to the surrounding areas. Not only learning and teaching but, especially, learning to appreciate and take part in the cultural life of the city.
For information and reservations: 060608 daily from 9.00 to 19.00
FOR ALL
A guided tour service is available in several languages, for a fee and by prior arrangement, with a choice of museum and/or exhibition route.
Guided tours for groups
timetable: at choice
language: Italian, English, French, Spanish, German
max. participants: varies depending on the museum
Duration: 90 minutes
cost: € 90,00
reservation: necessary
More information
FOR SCHOOLS
The service of guided tours, workshops and meetings for teachers is available by appointment only.
Educational guided tours for schools are free of charge only for those in Rome and its province, subject to availability.
Paid educational guided tours cost € 70,00 (duration 90 minutes).
The free educational workshops are dedicated for schools in Rome and its province, while the free offer lasts.
Paid educational workshops cost € 260,00 (duration 120 minutes).
Max. participants: varies depending on the museum (including teachers and accompanying persons).
School groups are welcome, but the presence of one teacher for every 30 students is required.
More information
FOR TEACHERS AND PROFESSIONALS 
The Musei in Comune are part of the project ROMA RACCONTA... Educare alle mostre educare alla città dedicated to teachers with conferences organized by the Coordination Service of Didactic Activities of Superintendence.
A large shared laboratory in which museum directors, curators, scholars and university professors present experiences and analyzes, in a program that deliberately mixes and integrates the humanities, to be translated into educational and cultural growth paths.
More information
Booking is always required: 060608 daily from 9.00 to 19.00